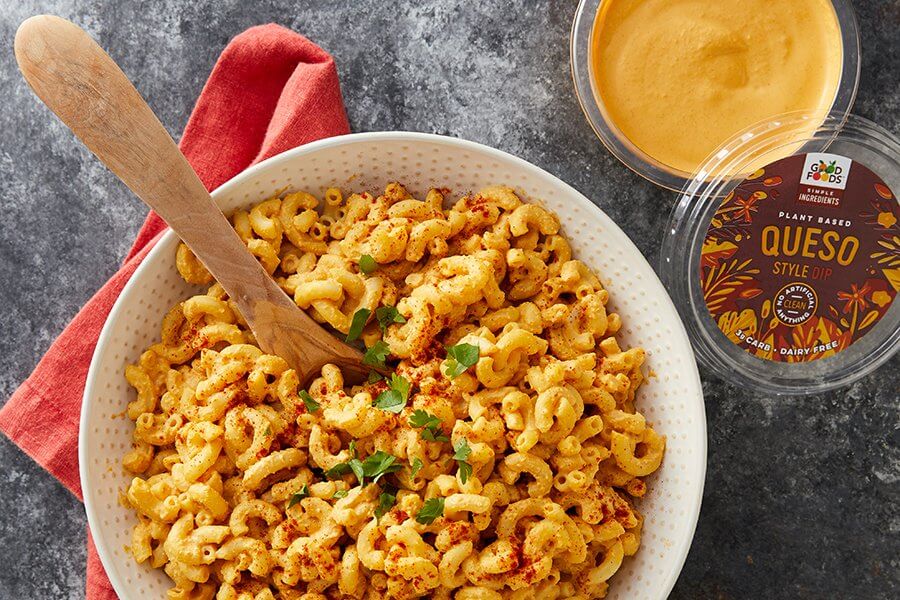 This Queso Mac & Cheese Will Make Your Mouth Water
This is the mac-daddy of all comfort food recipes…
Let's be honest here, is there anyone who did NOT grow up with mac and cheese as a childhood staple?
Other than being one of the most popular best friend metaphors, macaroni and cheese is one of those dishes that (unlike us) never gets old.
Skip the powdered cheese packets and reach for our creamy Queso Style dip! It makes this classic dish just as tasty without the guilt.
In less than 15 minutes, you're going to be in a world full of pasta-bilities!
Queso Mac & Cheese
Servings: 2
Prep Time: 5 minutes
Cook Time: 10 minutes
Ingredients
Instructions
Bring 4 quarts of salted water to a rapid boil.
Add elbow macaroni; stir gently and return to a boil. Cook uncovered, stirring occasionally for 8-10 minutes or until desired tenderness is reached. Drain.
Divide noodles evenly in two bowls.
Mix 2 tbsp queso dip into each bowl of noodles. Divide paprika and cilantro into two and stir evenly into bowls of macaroni. Add a pinch of salt and pepper to taste.