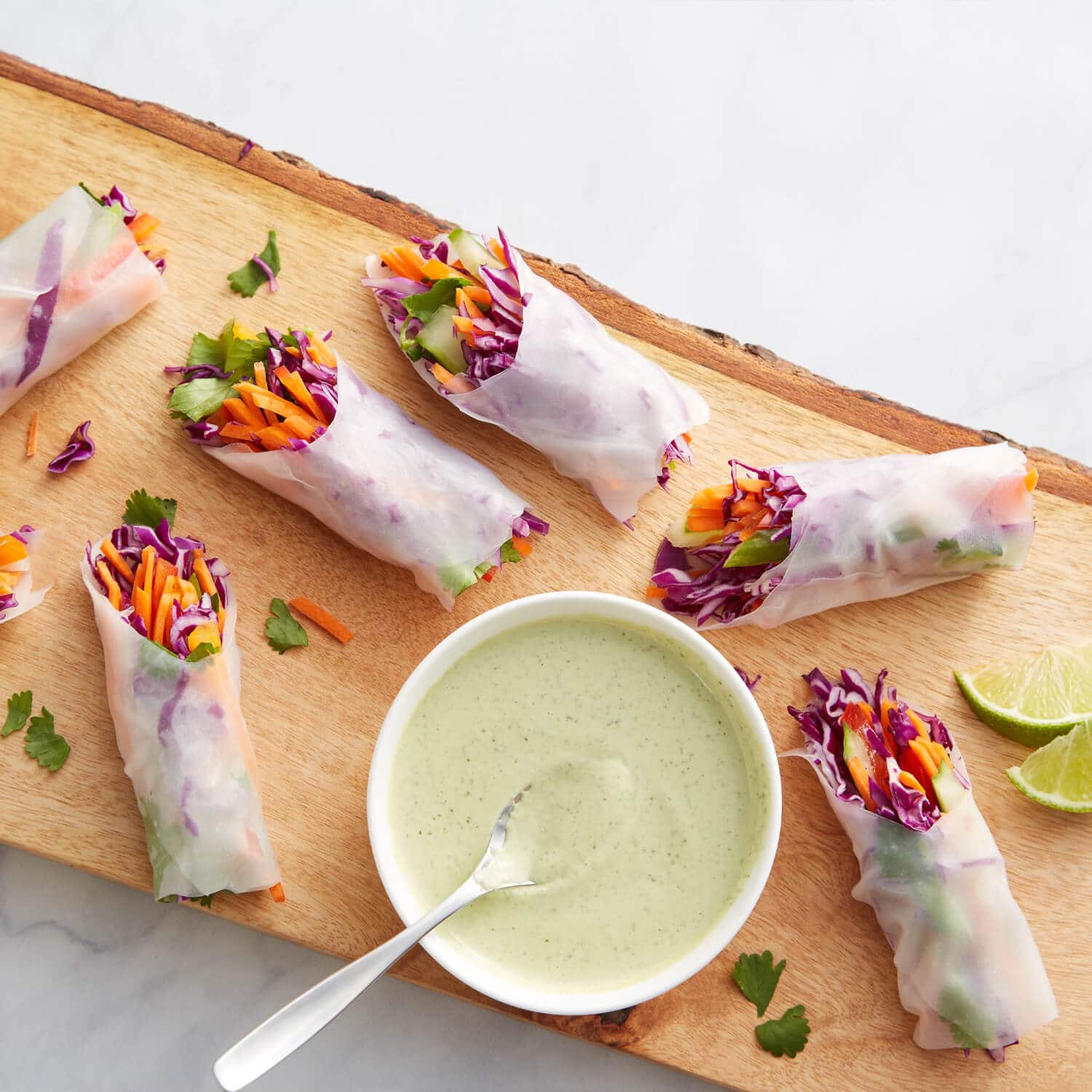 Veggie Cilantro Spring Rolls
Skip the fried restaurant spring rolls and make this veggie cilantro version! Not only is it much more tasty and colorful, we've also got the perfect dipping sauce: Good Foods Cilantro Dip. All of our Good Foods dips and dressings are so versatile that you can pair it with absolutely everything and any meal! Recipe below.
Ingredients
8 rice paper wrappers
One 8 oz package Vermicelli rice noodles (cooked and chilled according to package directions)
1 cup cool water
Vegetable ingredients
1 ripe Haas avocado, sliced thin lengthwise
1 cup coarsely grated jicama
1 coarsely grated medium carrot
1/2 cucumbers, julienned
1/2 red bell pepper, julienned
1/2 yellow bell pepper, julienned
1/2 medium head thinly sliced red cabbage
1/2 cup julienned fresh cilantro
1/4 cup of julienned fresh mint
Vegetable marinade ingredients
1/2 cup rice-wine vinegar (not seasoned)
1 tsp sea salt
1 tbsp. cane sugar
1/4 tsp red pepper flakes
Noodle sauce ingredients
2 tbsp low-sodium tamari soy sauce
1/4 tsp toasted sesame oil
Directions
In a medium pan, cook Vermicelli rice noodles according to package directions and cool under running cold water. Once chilled combine Vermicelli rice noodles with toasted sesame oil and low-sodium tamari soy sauce completely coating the noodles. Set aside.
Drain the marinated cabbage, carrot, and jicama mixture and combine with Vermicelli rice noodles. Add the cilantro and mint and mix well.
Prepare rice-paper wrappers according to package directions, dipping one rice paper wrapper into water, lift out, and drain briefly. Set on a flat surface.
To assemble spring rolls: Place ½ cup noodle and vegetable mixture in the center of each wrapper. Place 3-4 pieces each of remaining ingredients (avocado, cucumber, red and yellow pepper) in the center of wrapper.
To fold rolls, press down on filling, fold the bottom of each wrapper over filling, then fold in sides. Roll tightly. Press edges to seal. If rice paper is too dry to form a proper seal, moisten unsealed edges with a little water. Set rolls on a platter and cover with a damp towel.
In a medium bowl, combine rice vinegar, water, sea salt, cane sugar and red pepper flakes stirring until sugar and salt are dissolved. Add thinly shredded red cabbage, coarsely grated jicama, and carrot; mix well and marinate for 30-60 minutes.
To serve, cut rolls crosswise in half with Good Foods Cilantro Dip.