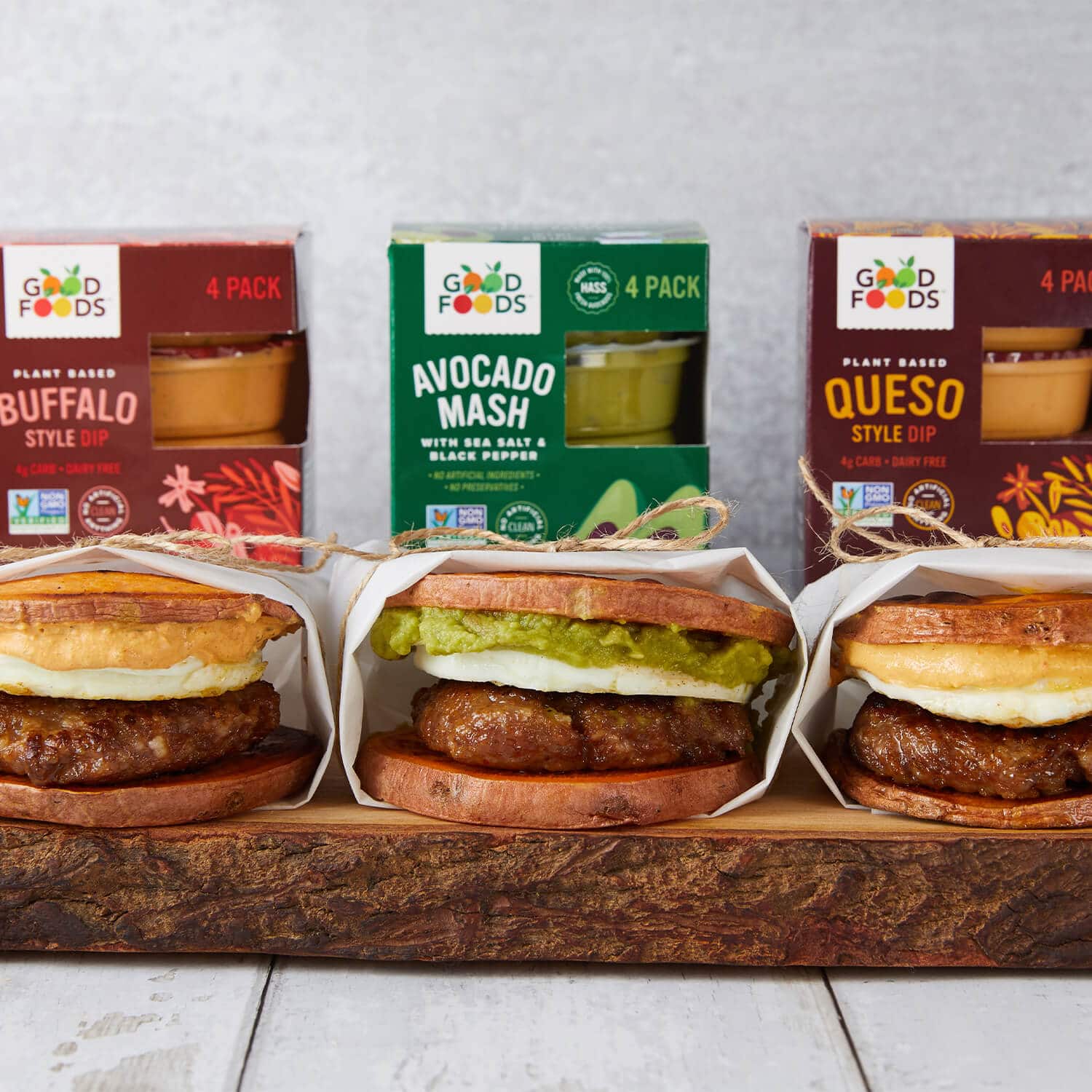 Whole 30 Breakfast Sandwiches
Whole 30 is a diet that has swept the country, and for good reason. Good Foods dips are the perfect way to amp up the flavor in your Whole 30 recipes, and these breakfast sandwiches are the perfect, delicious example.
Servings: 2
Prep Time: 5 minutes
Cook Time: 5 minutes
Ingredients:
1 sweet potato (pick one that is uniformly round), sliced into four ½ inch rounds

1 tbsp plus 1 tsp coconut oil

1/8 tsp cinnamon, divided

1/8 tsp salt, divided

Whole 30 sausage, made into two patties about the same size as your sweet potato rounds

2 eggs

Salt and pepper to taste

Good Foods Queso, Buffalo and/or Avocado Mash
Directions:
Heat oil in a skillet over medium-low heat. Add sweet potatoes and sprinkle with ½ of the cinnamon and salt. Cook 3 minutes then add sausage patties to the pan.

Cook another 5 minutes then flip potatoes and sausage. Sprinkle potatoes with remaining cinnamon and salt.  Cook another 4-5 minutes or until potatoes are evenly browned and tender.

Meanwhile, after flipping the sausage and potatoes and when the potatoes are just about tender, heat 1 tsp oil over medium-low heat in a separate skillet.

Crack eggs gently into the pan to keep yolks intact. Don't overcrowd. An egg ring can be used to keep the eggs round. Cook until the tops of the whites are set but the yolk is still runny, about 2-3 minutes.

Assemble sandwiches by topping one sweet potato round with sausage, egg, Good Foods dip of choice and another sweet potato round.

Enjoy!