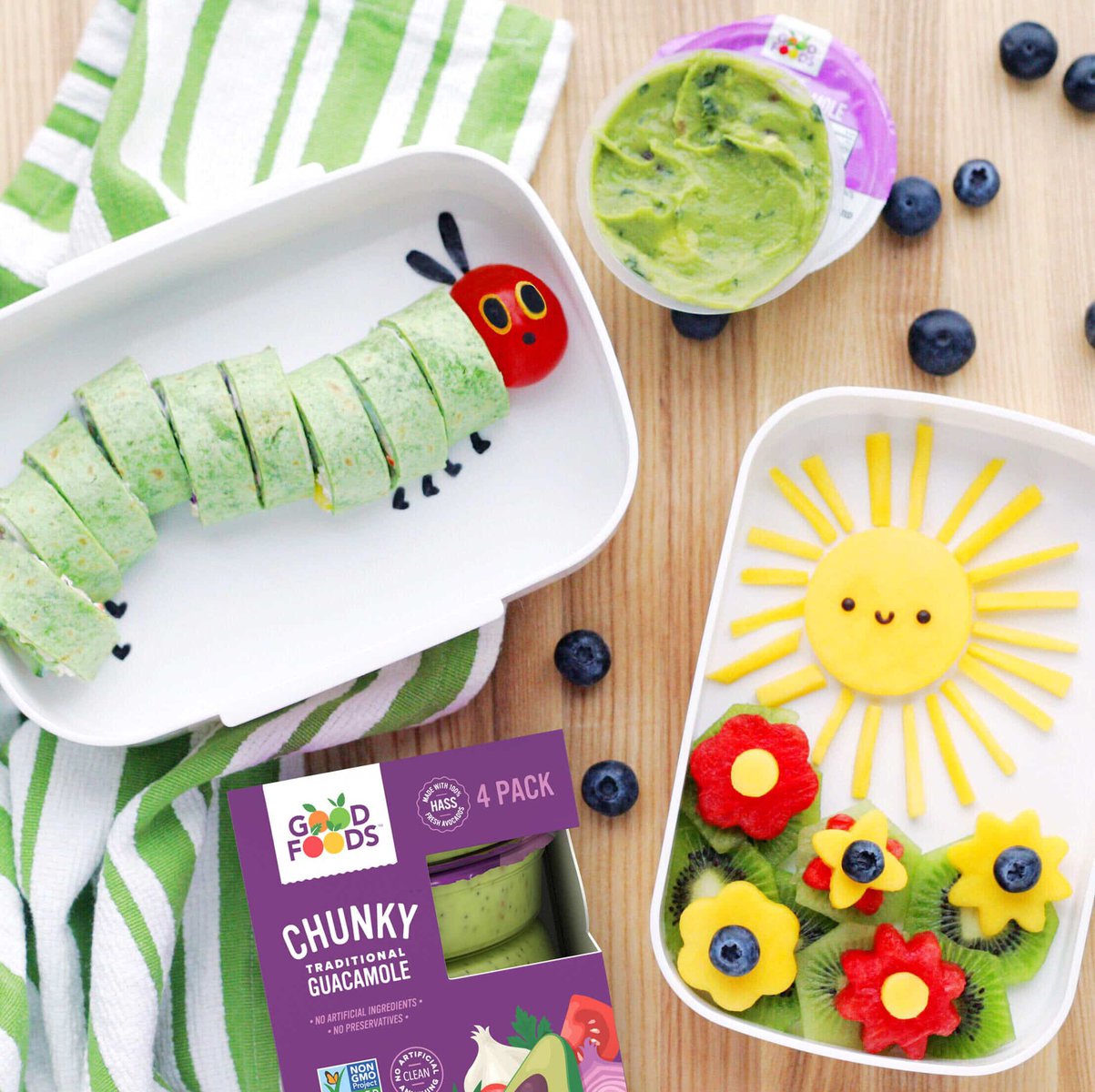 Guacamole Ranch Roll-Ups
Back to school time equals lots of lunch prep. If you're looking for something super fun and delicious to break up the same old staples this cute caterpillar lunch is just the thing! Our friend @luxeandthelady created these Guacamole Ranch Roll-Ups that are an easy way to sneak extra veggies into your kid's school day, and can be made the night before to save time.
Just like Good Foods Guacamole, this lunch is vegetarian and packed full of wholesome ingredients. @luxeandthelady notes the decorations were inspired by one of her favorite childhood books, The Very Hungry Caterpillar, and are packed with a Good Foods Chunky Guacamole single packs for dipping.
INGREDIENTS:
Guacamole Ranch Roll-Ups:
2 spinach wraps
2 tablespoons whipped cream cheese
2 tablespoons sour cream
2 teaspoons ranch dressing mix
Ground pepper to taste
3/4 cup shredded cabbage and carrots
½ cup chopped veggies (I used cucumber and bell peppers)
2 single serve Good Foods Chunky Guacamole packs
Caterpillar Decorations:
2 large cherry tomatoes or 1 roma tomato
Sheet of nori or spinach leaves
Yellow bell pepper or cheddar cheese
Small kitchen scissors
Flower Fruit Art:
Favorite fruits (I used watermelon, blueberries, mango, and kiwi)
1/8 cup chocolate chips
Small flower cookie cutters
1-2 inch round cookie cutter
Small round cookie cutter or large round piping tip
Sharp kitchen knife
Wax paper
Toothpicks
DIRECTIONS:
In a small bowl, combine the sour cream, cream cheese, ranch mix, and pepper.
Use a butter knife to spread half of the cheese mixture onto each spinach wrap, completely covering one side.
Sprinkle chopped veggies on top and tightly roll together. Use more cream cheese, if needed, to seal the end of the wrap. Cover with plastic wrap and refrigerate for at least an hour (or overnight).
Use scissors to cut shapes out of the nori. (or spinach leaves if you prefer) You will want a tiny circle for the nose, 2 ovals for the eyes, 2 exclamation point lines for the antennae, and 6 tiny L shapes for the legs. Set these aside until ready to decorate.
To make the face for the sun, melt the chocolate chips in the microwave in 30 second intervals (at 50% power) until smooth. Then dip a toothpick into the melted chocolate and draw the face onto wax paper. Allow to set.
When you are ready to pack the lunch, Cut the roll-up into about 10 segments and arrange in your lunchbox. Add the cherry tomato (or one end of the Roma tomato) for the head, then 2 ovals cut from cheddar or yellow pepper for the eyes, and top with your nori (or spinach) cutouts. You can use more cream cheese, if needed, to make the eyes stick.
To make the sunny fruit scene, use a circle cookie cutter to cut the sun out of mango, and a sharp knife to cut the strips for the rays. Add your chocolate face details on top. Cut a kiwi into segments and lay flat. Then use the flower cookie cutters and round cutter to make flowers with your other fruits. Arrange on top of the kiwi. Complete with an individual Good Foods Guacamole for dipping and your cute creation is complete!
Any leftover ingredients can be covered and stored in the refrigerator. If you give this a try we'd love to see!