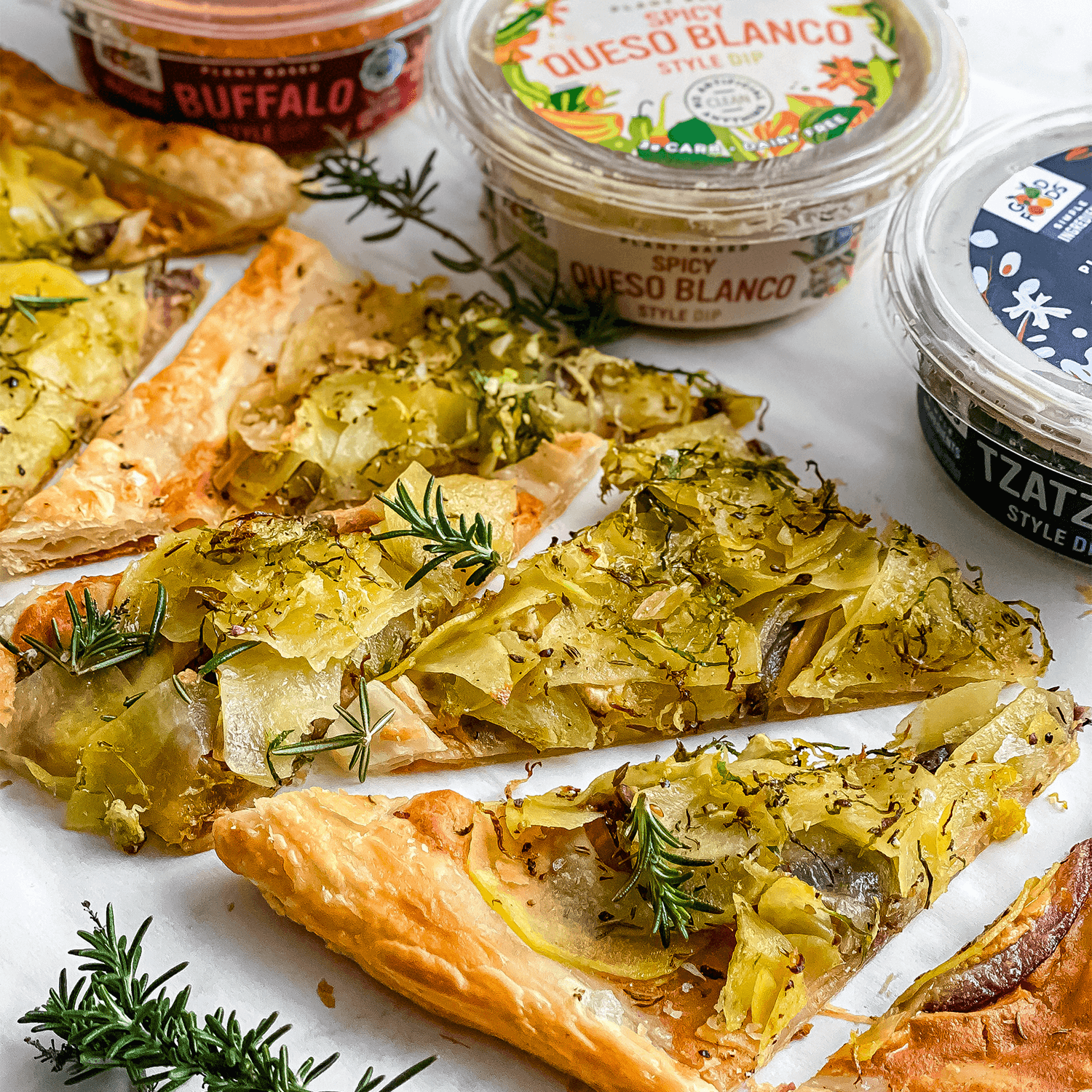 Potato Tart with Caramelized Onions
Check out this delicious recipe from our friend @naturallyzuzu!
Servings: 3-4
Prep Time: 15 minutes
Ingredients:
1 sheet of vegan puff pastry dough. 

2 Tbsp of olive oil 

2 medium size yellow potatoes, peeled and sliced thinly through mandolin slicer 

1 large red onion

3 Tbsp of Plant Based Tzatziki, Buffalo or Spicy Queso Blanco. 

Fresh rosemary

1/2 tsp black pepper 

1 tsp kosher salt 

Optional: 2-3 brussels sprouts shaved thinly 
Instructions:
Preheat oven at 400 F 

Heat one tablespoon of oil and sauté sliced onions until they are caramelized. About 8-10 min stirring them constantly. Set it aside.  

Take the sliced potatoes, put it in a bowl and drizzle with 1 tablespoon of olive oil and coat the potatoes with oil. 

Meanwhile, unfold the sheets of puff pastry on a baking sheet lined with a parchment paper.  

Take 2-3 tables spoons of your favorite plant-based dip and spread it in the center of the puff pastry leaving 1/2 inches off the edges.

Layer with caramelized onions, sliced potatoes and shredded Brussels sprouts. Sprinkle the tart with some fresh rosemary, salt and pepper.

Take the fork and press the edges of the puff pastry to create pretty design. 

 

Brush the edges of the puff pastry with almond milk.

Bake the tart for 20 min until edges are golden. Drizzle it with some more of your favorite Good Foods plant-based dip. Enjoy!